Our new website is live!
Posted by St Augustine's Parish School on 23 July 2018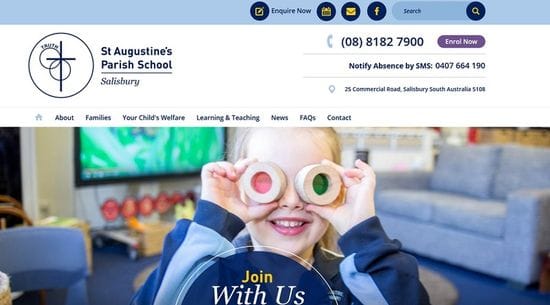 Our new website is live!
Anyone who's ever worked on a new website will know that launching it is an exciting time.
While most people see only the end product, the process of building a new website is incredibly valuable because it lets us reflect on how we can convey the spirit of our school community in an authentic way online.

Of course the most important driving force in the design and development of our new website, is you.

Whether you already belong to our community or are considering joining us, we have aimed to create a place which is warm and welcoming qualities we value in the environment we create here at St Augustine's. Our aim was to place the most important information at your fingertips and to make it as easy as possible for you to contact us to find out more about areas that are to you.

Our website also lets us showcase recent work to make our vision and mission more accessible to you, like publishing a 2-page overview of our Strategic Plan. You might also like to read our approach to learning and teaching and a message from our principal, Georgia Dennis.

As we continue to add to our website and fine tune it over coming months, we would welcome your feedback. If you have any comments or suggestions about our new website, please share them with us.

So have a look around and if you know other parents who are considering schools for their child, please share a link to our new website with them.
Author:St Augustine's Parish School